2017 IDSC GWL FAMILY WEEKEND
IDSC 5th Annual Great Wolf Lodge Meetup
2016 was our largest meetup yet! Over 550 families joined us at 13 Great Wolf Lodge locations (12 in the United States and 1 in Canada). 5,000 people joined us for the Saturday night pizza parties. It was a very successful event and families have excitedly been waiting for the 2017 event!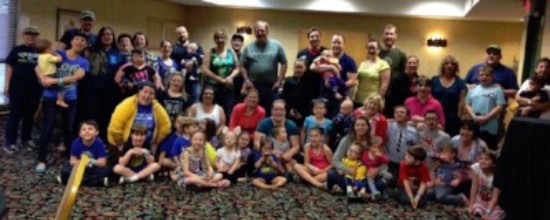 This year, we are adding the soon-to-be-open Great Wolf Lodge Colorado Springs, CO location to our annual event! Unfortunately, the Niagara Falls location is not participating this year. We hope to once again add it to future family weekends.
For the first time, guests have the opportunity to book one or two nights. In previous years, it was a 2 night minimum. (Click on the photo below to access the website links in the document.)
Reservations must be made by August 1st, 2017!
As always, book early! Once a room block fills up, we need to renegotiate the rate and we cannot guarantee the same low rate. If your family knows you plan to go, we strongly suggest booking your room as soon as possible!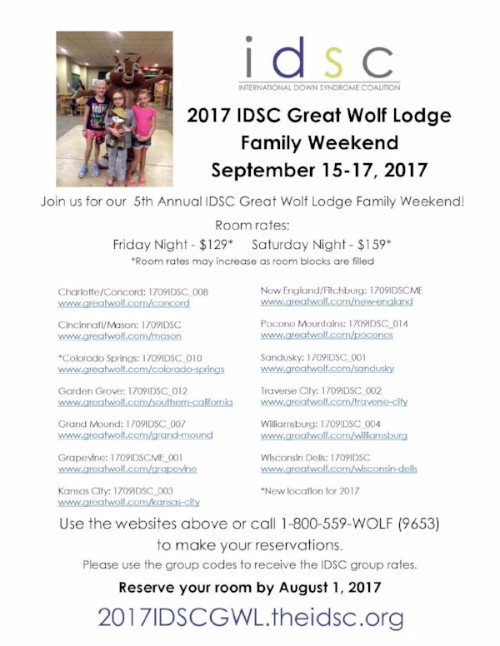 ---
What is the IDSC Meetup?
The IDSC Meetup is an opportunity for families to connect and meet in person. With our 12 IDSC Facebook Groups, families are able to seek support and guidance from other parents and families with loved ones with Down syndrome. Many of these families live throughout the United States as well as throughout the world. The meetups provide an opportunity for families to finally meet. 
What happens at an IDSC Meetup?
The goal for the weekend is FUN! There will be fun activittes planned throughout the weekend.
Can I participate in events if I live locally and am not staying at the lodge?
Absolutely! Throughout the weekend, there are opportunities to socialize. Depending on the location, there will be a schedule of events throughout the weekend. Please join your location's Facebook group to stay up to date on the weekend's events. Each location is hosting a pizza party on Saturday night. This event is open to all families. Details regarding the pizza party will be released as we approach the event date.
---
Event Facebook Groups
For up-to-date information about your location's meetup, please join the location's Facebook group. A list of groups can be found here.
---
Pizza Party - September 16, 2017
The pizza party will be held at all locations on Saturday, September 16th. Pizza Party Tickets can be purchased at pizzaparty.theidsc.org