2019 IDSC Great Wolf Lodge Family Weekend
7th Annual IDSC Great Wolf Lodge Family Weekend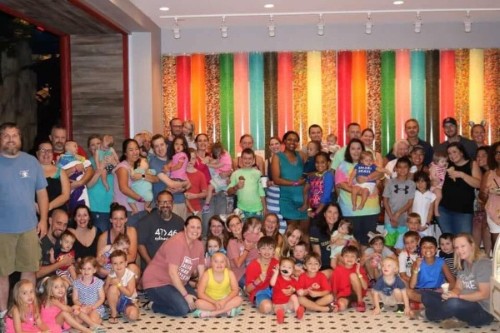 2018 was our largest Family Weekend yet! Over 900 families joined us at 17 Great Wolf Lodge locations - 16 in the United States and 1 in Canada. Please feel free to read our 2018 eProgram.

We are excited to announce the dates for next year's event:
September 20-22, 2019
---
About the IDSC Great Wolf Lodge Family Weekend
What is the IDSC Family Weekend?
The IDSC Family Weekend is an opportunity for families to connect and meet in person. With our 17 IDSC Facebook Groups, families are able to seek support and guidance from other parents and families with loved ones with Down syndrome. Many of these families live throughout the United States as well as throughout the world. The Family Weekends provide an opportunity for families to finally meet. 
What happens at an IDSC Family Weekend?
The goal for the weekend is FUN! There will be fun activities planned throughout the weekend.
Can I participate in events if I live locally and am not staying at the lodge?
Absolutely! Throughout the weekend, there are opportunities to socialize. Depending on the location, there will be a schedule of events throughout the weekend. Please join your location's Facebook group to stay up to date on the weekend's events. 
---
Event Registration
Please complete the following form to register for the event. Upon registering, the screen immediately following your submission will have information regarding room rates, codes and how to reserve your room.

If the registration form does not appear below for you, please click here.