IDSC MEETUP.
2015 was our largest meetup yet!
Over 2,000 guests joined us at 12 Great Wolf Lodge locations (11 in the United States and 1 in Canada).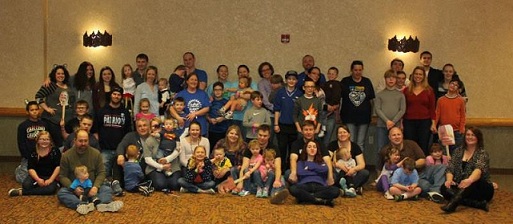 2016's meetup is sure to be a larger with the addition of the Garden Grove, CA location in Southern California.
What is the IDSC Meetup?
The IDSC Meetup is an opportunity for families to connect and meet in person. With our 12 IDSC Facebook Groups, families are able to seek support and guidance from other parents and families with loved ones with Down syndrome. Many of these families live throughout the United States as well as throughout the world. The meetups provide an opportunity for families to finally meet. 
What happens at an IDSC Meetup?
The goal for the weekend is FUN! There will be fun activitites planned throughout the weekend.
Can I participate in events if I live locally and am not staying at the lodge?
Absolutely! Throughout the weekend, there are opportunities to socialize. Depending on the location, there will be a schedule of events throughout the weekend. Please join your location's Facebook group to stay up to date on the weekend's events. Each location is hosting a pizza party on Saturday night. This event is open to all families. Details regarding the pizza party will be released as we approach the event date.
---
IDSC 4th Annual Great Wolf Lodge Meetup
The meetup dates for 2016 are September 16-18 for every location except Niagara Falls. Niagara Falls meetup will be May 6-8.
Of very special note - we were able to negotiate a substantially cheaper rate this year than in previous years! This is THE LOWEST rate we have ever been able to offer!! The rate is $139* per night for each location in September. NOTE: The Saturday rate for Niagara Falls has increased: $197 (Friday) and $319.99 (Saturday). 
*NOTE
(1/25/16): Due to the initial 2 room blocks being filled, the room rate for Garden Grove, CA has increased to $239/night.
(2/1/16): Due to the initial room blocks being filled, the room rate for Pocono Mountains, PA has increased to $199/night.
(4/18/16): Due to the initial room blocks being filled, the room rate for Charlotte/Concord, NC has increased to $159/night.
(7/29/16): Due to the initial room blocks being filled, the room rate for Grapevine, TX has increased to $175/night.
The group reservation codes to use to take advantage of our special group rate are:
*Charlotte/Concord, NC: 1609IDSC_010
Cincinnati/Mason, OH: 1609INTE
*Garden Grove, CA: 1609IDSC_007
Grand Mound, WA: 1609IDSC_002
*Grapevine, TX: 1609IDSCME_001
Kansas City, KC: 1609IDSC
New England/Fitchburg, MA: 1609IDSCME
Niagara Falls, Ontario for May: 1605IDSC2
*Pocono Mountains, PA: 1609IDSC_009
Sandusky, OH: 1609IDSC
Traverse City, MI: 1609IDSC_003
Williamsburg, VA: 1609IDSC_004
Wisconsin Dells, WI: 1609IDSC_001 
Call 1-800-559 WOLF (9653) to make your reservations by August 2, 2016!
As always, book early! Once a room block fills up, we need to renegotiate the rate and we cannot guarantee the same low rate. If your family knows you plan to go, we strongly suggest booking your room as soon as possible!
Stay tuned for more details about the weekend and the Saturday night pizza party!
---
Event Facebook Groups
For up-to-date information about your location's meetup, please join the location's Facebook group. A list of groups can be found here.
---
Pizza Party - September 16, 2016
Join us for a pizza party on September 16th, 2016 at each of the U.S. Great Wolf Lodge locations! Tickets will be available soon!